TAKAMAZ has succeeded in making the XT-8MY 8-inch CNC lathe and the ROBO-QJC AIO16 manufactured by Matsumoto Machine collaborate with each other.
The XT-8MY, a space-saving, compound-machining lathe designed for ease of use, and the ROBO-QJC AIO16, a user-friendly robot that requires no complicated settings.
The synergy of the two enables construction of an automation system that greatly reduces the load on operators.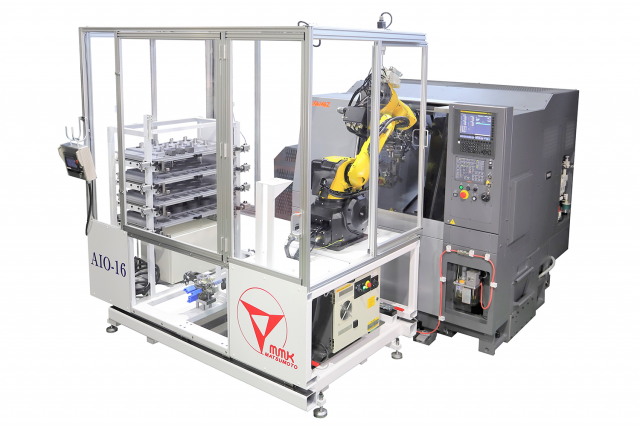 Features of Matsumoto Machine's ROBO-QJC AIO16
Even drawing out the tray is done by the robot hand.
Automatic chuck jaw changes reduce the man-hours required for setup changes.
This is an all-in-one system that can automatically change chuck jaws in addition to changing workpieces, as was previously possible.
No teaching is required other than for chucking, and the operator-friendly design is one of the attractions of this system.
Advantages of collaboration
1. Maximum performance in the minimum space
The XT-8MY has a space-saving footprint of only 2.4 m2, but is equipped with a wide range of functions, including Y-axis and power tool functions.
The ROBO-QJC AIO16 is similarly compact, keeping the footprint to a minimum.
By joining these compact machines together, a high-productivity automation system can be built in a restricted space in the plant.
2. Automation of a wide variety of machining processes
The ROBO-QJC AIO16 can change workpieces even during automatic operation, making it the ideal system for multiproduct, variable quantity production.
The XT-8MY is equipped with Y-axis and power tool functions, enabling automation of a wide variety of machining operations in collaboration with the ROBO-QJC AIO16.
This offers a way to automate high-mix low-volume production, which has conventionally had to rely on human hands.
The strengths of TAKAMAZ products are high performance and high maintainability achieved by the integrated design of the machine and loader.
At the same time, their compact design makes them ideal for use with various peripheral equipment including robots.
We have abundant experience in joining lathes and peripheral systems, in addition to the ROBO-QJC AIO16 covered here.
Please feel free to contact us for more information.